CLASS ROOM FACILITIES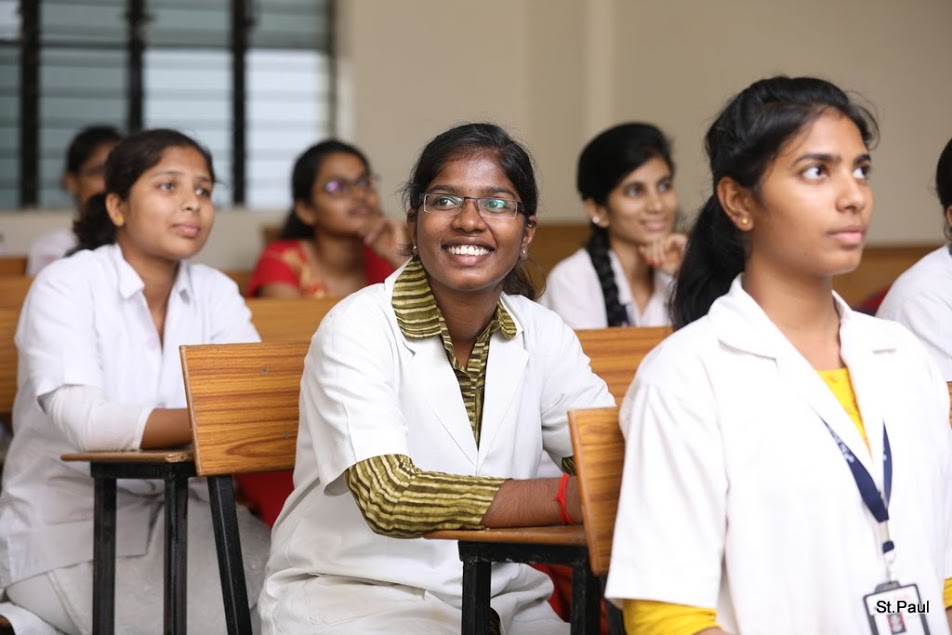 All the classrooms of the college are well furnished with all modern facilities like Black and Whiteboard with marker, OHP, LCD Projector and Computer with internet facility.
LABORATORIES
State-of-the-art laboratories are the back bone of any Pharmacy College. Practical exposure brings real value to pharmacy degree. St. Pauls College of Pharmacy includes all laboratories with the latest equipments. There are specialized labs for Pharmaceutics, Pharmacology, Pharmaceutical analysis, Pharmaceutical chemistry, Pharmaceutical microbiology, Biotechnology, Pharmacognosy etc.
LIST OF LABORATORIES
| Lab description | Room no./ Floor | Batch size | Availability of manuals | Quality of instruments | Safetymeasures |
| --- | --- | --- | --- | --- | --- |
| Pharmaceutics-I / Pharmaceutical Engineering | G | 30 | Available | Good & Working Condition | Fire extinguishers & firsts aid kits |
| Pharmaceutical chemistry-I | G | 30 | Available | Good & Working Condition | Fire extinguishers & first aid kits |
| Pharmaceutical chemistry-II | G | 30 | Available | Good & Working Condition | Fire extinguishers & firsts aid kits |
| Pharmacology | G | 30 | Available | Good & Working Condition | Fire extinguishers & first aid kits |
| Pharmacognosy | G | 30 | Available | Good & Working Condition | Fire extinguishers & first aid kits |
| Pharmaceutics-II | F | 30 | Available | Good & Working Condition | Fire extinguisher & firsts aid kits |
| Pharmaceutics-III | F | 30 | Available | Good & Working Condition | Fire extinguishers & first aid kits |
| Microbiology/Biotechnology | F | 30 | Available | Good & Working Condition | Fire extinguishers & first aid kits |
| Pharmaceutical Analysis | F | 30 | Available | Good & Working Condition | Fire extinguishers & first aid kits |
| Computer lab | F | 30 | Available | Good & Working Condition | Fire extinguishers & first aid kits |
| Pharmacy practice lab | S | 30 | Available | Good & Working Condition | Fire extinguishers & first aid kits |
| Human Anatomy and physiology | S | 30 | Available | Good & Working Condition | Fire extinguishers & first aid kits |
| M. Pharm – Pharmaceutical Analysis | S | 30 | Available | Good & Working Condition | Fire extinguishers & first aid kits |
| M. Pharm – Pharmaceutics lab-I | S | 30 | Available | Good & Working Condition | Fire extinguishers & first aid kits |
| M. Pharm – Pharmaceutics lab-II | S | 20 | Available | Good & Working Condition | Fire extinguishers & first aid kits |
| Machine Room | G | 25 | Available | Good & Working Condition | Fire extinguishers & first aid kits |
| Instrumentation Room | S | 10 | Available | Good & Working Condition | Fire extinguishers & first aid kits |
| M Pharmacy- Pharmaceutical Analysis | | 10 | Available | Good & Working Condition | Fire extinguishers & first aid kits |
| M Pharmacy- Pharmaceutics | | 10 | Available | Good & Working Condition | Fire extinguishers & first aid kits |