The well-established medicinal plant garden is available in an area of about 200 sq.mts. The objective of establishing this garden is to maintain a conservatory of the most common and important species of medicinal and aromatic plants which are being used in day-to-day primary health care.
Medicinal garden is maintained by department of pharmacognosy.

The total area of the garden is 200 square meters.

The boundary of the garden is well demarcated.

The overlook of the garden gives an impression of a permanent arrangement.

Various types of herbs, shrubs, trees, plants growing under shade have been planted in demarcated area.

All the plants present in the medicinal garden are protected from weeds.

Proper water supply, sufficient sunlight are maintained with sufficient shade.

Name boards are fixed by detailing the name of the plants.
List of medicinal plants planted in the garden
S.No
Common name
Botanical name
Family
1
Aswagandha

Withaniasominifera

Solanaceae

2
Vasaka

Adhatodavasica

Acanthaceae

3

Periwinkle

Catharanthus roseus

Apocyanaeae

4

Forskohli

Coloeusforskohlii

Lamiaceae

5

Guggul

Commiphorawightii

Borseraceae

6

Henna

Lawsoniainermis

lythraceae

7

Jalbrahmi

Bacopa monirii

Plantaginaceae

8

Mint

Mentha piperita

Lamiaceae

9

Tulasi

Occimum sanctum

Lamiaceae

10

Mexican mint

Coloeusaeromaticus

Lamiaceae

11

Sarpagandha/ Indian snake root

Rauwolfia serpentina

Apocyanaceae

12
 Asian pigeon wings/

shankapushpi

Clitoriaternatea

Fabaceae

13

Gotu kola/Mandookparni

Centella asiatica

Apiaceae

14

Lemon grass

Cymbopoganflexuosus

Graminae

15

Golden shower tree

Cassia fistula

Fabaceae

16

Basil

Ocimumbrasilium

lamiaceae

17

Gurmar

Gymnemasylvestre

Apocyanaceae

18

Fringed rue

Rutachalepensis

Rutaceae

19

Shatavari

Asparagus racemosus

Asparagaceae

20

Nux vomica

Strychnusnuxvomica

Loganiaceae

21

Green chireta

Andrographis paniculata

Acanthaceae

22

Coral swirl

Holarhenaantidysentrica

Apocyanaceae

23

Kasturi benda/Musk mallow

Abelmoschus moschatus

Malvaceae

24

Black night shade

Solanum nigrum

Solanaceae

25

Bhringraj

Eclipta alba

Asteraceae

26

Gaduchi

Tinosporacordifolia

Menispermaceae

27

Aloe

Aloe vera

Solanaceae

28

Veldt grape

Cissusquadrangularis

Vitaceae

29

Gokhru

Tribulus terrestris

Loganiaceae

30

Momordica

Momordica charantia

Cucurbitaceae

31

Rose

Rosa sinensis

Malvaceae

32

Papaya

Carica papaya

Caricaeae

33

Datura

Datura metal

Solanaceae

34

Neem

Azadirachtaindica

Meliaceae

35

Senna

Cassia aungustifolia

Fabaceae

36

Kalmegh

Andrographis paniculata

Acanthaceae

37

Nisinda

Vitex negundo

lamiaceae

38

Indian chrysanthemum

Chrysanthemum indicum

Asteraceae

39

Miracle leaf

Bryophyllumpinnatum

Crassulaceae

40

Vetiver

Vetiver zizanioides

Poaceae

41

Gokhru

Tribulus terrestris

Zygophyllaceae

42

Papaya

Carica papaya

Caricaceae

43

Hibiscus

Hibiscus rosa-sinensis

Malvaceae

44

Acacia

Acacia arabica

Leguminoceae

45

Capsicum

Capsicum annum

Solanaceae

46

Lemon

Citrus limonis

Rutaceae

47

Eucalyptus

Eucalyptus globulus

Myrtaceae

48

Cotton

Gossypium herbacium

Malvaceae

49

Bitter guard

Momordica charantia

Cucurbitaceae

50

Rice

Oriza sativa

Poaceae

51

Amla

Emblica officinalis

Phyllanthaceae

52

Milk thisle

Silybummarianum

Asteraceae

53

Myrobalan

Terminalia chebula

Combretaceae

54

Maize

Zea maize

Poaceae

55

Garlic

Allium sativum

Amarylidaceae

56

Onion

Allium cepa

Amarydilaceae

57

Fenugreek

Foeniculumvulgarae

Apiaceae

58

Ashoka

Saracaindica

Fabaceae

59

Sunflower

Helianthus annuus

Asteraceae

60

Cocconut

Areca catechu

Asteraceae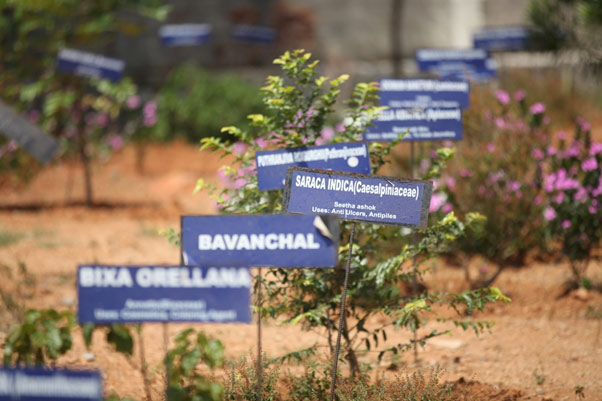 | | | | |
| --- | --- | --- | --- |
| 1. | Azadirachta indica | 2. | Abrus precatorius |
| 3. | Catharanthus roseus | 4. | Datura metal |
| 5. | Aloe vera | 6. | Murraya koenigii |
| 7. | Eucalyptus globules | 8. | Capsicum annum |
| 9. | Citrus lemon | 10. | Moringa oleifera |
| 11. | Mangifera indica | 12. | Punica granatum |
| 13. | Lycopersican esculantum | 14. | Ocimum sanctum |
| 15. | Ricinus communes | 16. | Commiphora mukul |
| 17. | Alpinia calcarata | 18. | Asparagus racemosus |
| 19. | Kalanchoe laciniata | 20. | Pelargonium graveolens |
| 21. | Lawsonia inermis | 22. | Aegle marmelos |
| 23. | Saraca indica | 24. | Trachyspermum ammi |