FACULTY ACHIEVEMENTS
Dr. M.Kiranmai
Chairperson for scientific session, PERCEPT, OU in 2020.
Guest speaker in the International Online Scientific Congress, "Phytomed 2020 – Organized from Melbourne, Australia.
Accepted paper at FIP 2020.
Publication of Book chapter titled as " Fabrication and functionalization of other inorganic nanoparticles and nanocomposites" Tayler Francis Publishers, 2019-20.
A patent application 202141048399 has been filed under expedite patent category
Scientific Excellence Award 2021 by Academic Growth Foundation, 2021.
"Best Achievers Award" in 17th Indo-US conference in association with APP international division held on 21st-22nd January, 2022.
Young Performer award in APP Indo-Caribbean symposium on 12th Feb, 2022.
Dr B.Chandra Shekar
Organizing Committee Member at PERCEPT, National Conference Osmania University(OU), 2020.
Dr. P.Sunil Kumar Chaitanya
Best Teacher -2022 by Association Of Pharmacy Professionals
Dr. Somnath De
Certificate of appreciation award – 2022,APP American International Branch
Certificate of Appreciation Award -2022,Association of Pharmacy Professional
Prof.Jainendra Jain Memorial Award -2021,Association of Pharmacy Professional
Scientific team coordinator -2021,Sultan-Ul-Uloom college of Pharmacy
Dr. K. Venumadhav
Chairperson for Scientific Session, PERCEPT, OU, 2020
Dr. S.Vanitha Sagar
First Prize in oral presentations PERCEPT, OU, 2020.
Dr. Nasreen Sulthana
Young Scientist Award, 2018-19.
Dr. Sneha Thakur
An author contribution to monograph preparation of Indian Herbal Pharmacopeia, 2021.
Best Poster award – 2019, Indo Malaysian Conference
Best Researcher Award – 2022, APP international branch Haryana
Chairaperson APP International Conference
Mrs. B. Deepika
Late Smt. Shyam Sundri Memorial Award 2022", APP Outstanding Oration Award – May,2022
Dr. K. Nagaraju
First Prize for Oral Presentation in National Seminar -2019, Swami Ramananda Tirtha Institute Of Pharmaceutical Sciences Nalgonda.
First Prize for Oral Presentation in National Seminar – 2013, Anurag Pharmacy College Kodad.
Mrs. P. Naga Haritha
First Prize in Oral Presentation -2012,CMR college of Pharmacy
Mrs. B. Suhasini
Best Teacher Award -2022, APP
Mrs. K. Keerthi
Best Performer Award-2022, APP 21st INDO-US INTERNATIONAL Conference
Mrs. P. Jagruthi
Young Researcher Award -2022, APP International conference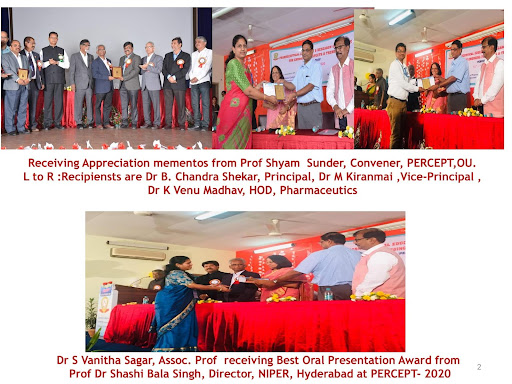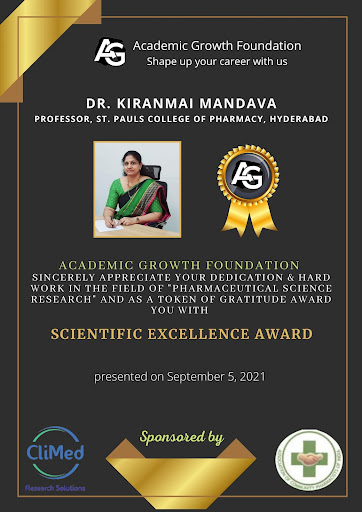 FACULTY AWARDED WITH PH.D