Principal's Profile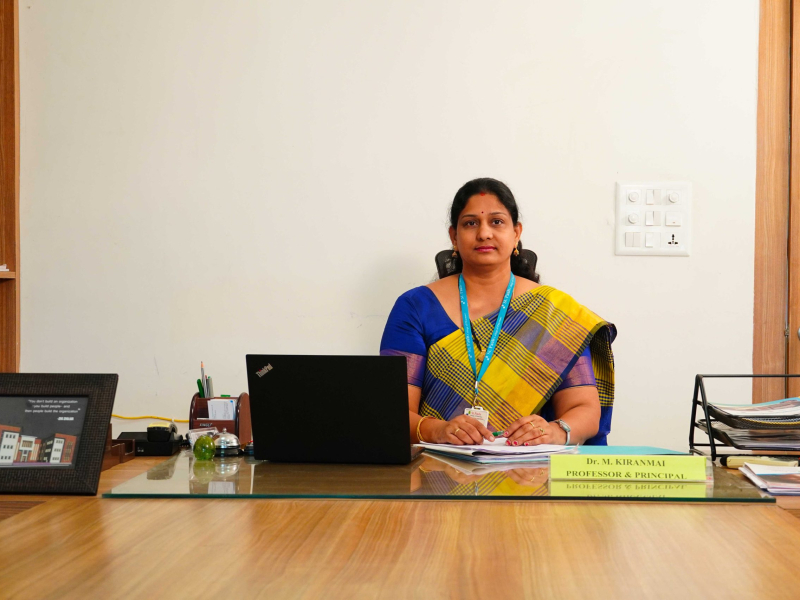 Dr. M. KIRANMAI

M. Pharmacy & Ph.D

Professor & Principal
"Education is the foundation upon which we build our future."

– Christine Gregoire
At the outset, I wish to extend my warm welcome you to the fraternity of St. Pauls College of Pharmacy. St. Pauls College of Pharmacy is one of the premier institutions in the field of Pharmacy. At present the college is offering PharmD, B.Pharmacy and M.Pharmacy (Pharmaceutics & Pharmaceutical Analysis) courses. Pharmacy as a profession comprises an integral part of health care system as well as pharma industry care system in India and across the globe. Our aim is not only to produce pharmacy graduates but also to mould an ideal Pharmacy professional who can cater the needs of society and the challenging Pharmacy profession.
Our core values are professionalism, academic freedom, respect, passion, excellence, innovation, diversity of ideas, integrity, collaboration, sharing knowledge in a learning environment, and application of knowledge and discovery to advance the quality of life.
Our college is provided with the state-of- the-art facilities, young dynamic and meritorious faculty having bent of research mind, well-furnished and pharmaceutical industry oriented laboratories with sophisticated instruments, excellent library, computer lab with latest configuration of computers having Internet facility. In addition to this, the college organizes periodically guest lectures, seminars, conferences, workshops, sports events, cultural activities etc. for the all round development of each and every student.
Indian pharmaceutical industry is globally respected and is one of the most successful industries in India. It has contributed immensely to India's healthcare outcomes and economy. World‐class capabilities and favorable market conditions over the last many years have ensured that India continues to be one of the most lucrative pharma markets in the world. Our strong position as a global supplier of high quality, affordable and accessible medicines.
The Pharmacy Council of India (PCI) recognizing Pharm.D (Doctor of Pharmacy) course in India, there is an increase in the scope of pharmacy to meet the ever-growing needs of healthcare industry. There are potential non-traditional job opportunities for PharmD graduates in India in various areas. One of the promising career options is pharmacovigilance, the science related to collection, detection, assessment, monitoring and prevention of adverse effects associated with drugs.
We the team of St.Pauls College of Pharmacy are highly committed to grooming GLOBAL Pharmacists to make India a PHARMA SUPERPOWER in the coming future.